As an Amazon Associate I earn from qualifying purchases.
Nearby picturesque Mount Meru slopes, the second highest peak in Tanzania, lies Tengeru, 13km from Arusha on the path to Moshi.
%CODE1%
It is simply the best base to explore cultural attractions that make up the rich heritage of the Meru tribe in Tanzania.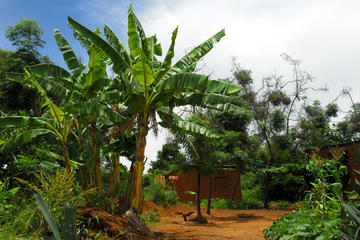 [amazon_link asins='B01JXSDAF6′ template='ProductCarousel' store='exploremoth07-20′ marketplace='US' link_id='61e3456e-f8db-11e7-b139-e1283c2283b5′]
There are farms, banana fields and traditional homesteads on the mountain. This village near Arusha is distinct in character.
The venture is set forth exploring old coffee farms with local production of the world's popular beverage with and then canoe into a  volcanic lake at Mount Meru foothills, home to the best birdwatching and fishing sites.
Ready to give back to communities around Kilimanjaro? Volunteer programs are on offer at all local schools in the surrounds of Mount Kilimanjaro, venture out and discover development and upliftment projects in the Tengeru Community.
Tengeru Activities
Coffee Tour
One of the major highlights in Tengeru is enjoying special home-brewed coffee with the locals.
The coffee plantations in Tengeru journey leads curiosity ventures into local homes and lessons to prepare coffee. The tour offers specially harvested coffee from the Meru community on volcanic Mout Meru foothills.
Lake Duluti Safari Tours
A close view of vegetation in Tengeru with an abundance of fauna and flora at the lakeside. Learn about mystical Meru legends and mysteries linked to Lake Duluti. Get a front seat view of birds, monkeys, reptiles, many other animals, and plants.
[amazon_link asins='190586454X,B018XI9I9Y' template='ProductCarousel' store='exploremoth07-20′ marketplace='US' link_id='cdcb06db-fac7-11e7-ad80-c9171781d166′]
This tour will give you an up-close view of Tengeru's vegetation and you will able to admire the abundant lakeside fauna and flora. You can learn about the Meru legends linked to the lake and its mysteries while getting a front-row viewing of the monkeys, birds, reptiles and many other animals whilst learning about our plant life. A magical destination of authentic traditional roots.
Tengeru Market Tour
The colorful community market, interact live and eat amongst the locals. The busiest market days are Wednesdays and Saturday
Conservation programs in Tengeru
Environment programs in a land rich with vegetation. A source of survival. The main issue is deforestation threatening ecology and the community. Participate in environmental programmes and enjoy a luscious waterfalls tour relaxing in nature marvels
Forest Tours at Mount Meru
The second highest mountain in Tanzania m Mount Meru boasts beautiful forests. Unwind and enjoy magnificence. It is a great destination for preparing for Mount Kilimanjaro expeditions
Walk through the forests of Tanzania's second-highest mountain.
"Mringaringa" Tour
A traditional gathering place, "Mringaringa". Listen to the wisdom of thrilling Meru culture and traditional dancing. This venue is also used for settling disputes in the community with presiding Meru elders.
Local Food Preparation and Traditional Dances
Soul soothing music and food celebrations with traditional dancing guarantee a worthwhile experience.
Welcome #ExploreMotherlandAfrica
[amazon_link asins='B0030IQ71K,B01GKW2HJI' template='ProductCarousel' store='exploremoth07-20′ marketplace='US' link_id='b53f0a6c-fac8-11e7-b1b8-95ef9e5e2536′]
.
Amazon and the Amazon logo are trademarks of Amazon.com, Inc, or its affiliates.