As an Amazon Associate I earn from qualifying purchases.
We have initiated the 'Only in Tanzania' series, an endless series. We described a few endemic mammal species from a list of many others and birds and bees get a mention too.
Now let's talk about the trees....


Trees of Tanzania
A safari in Tanzania is more than the amazing wildlife and animal sightings.
Tanzania has over one hundred different species of trees.
The most common trees encountered on a Safari trip are from the classic Acacia family of trees.
The Whistling Thorn

Wait a bit Acacia

Umbrella Tree

The Yellow Fever tree
Sausage Tree
Kigelia Africana
The Serengeti houses these characteristically long trees with fruits that drop down and seeds are released. The 5kg  fruit may easily crush one, so better not to camp under as elephants come over for fruit supply as well! A local belief is that the fruit wards of whirlwinds if hung in huts.
Baobab Trees
Adansonia Digitata
The majestic baobab measures  40 feet wide and 60 feet long.The giant trees have a lifespan of a thousand years. Then new seeds sprouts for a brand new  thousand year lifestyle the stirring landscape.
The umbrella tree, the African bush symbol  is always photographed as a typical tree  African bush tree,  Ask any African bush enthusiasts about African bush trees they will most definitely mention the umbrella tree  envisioning a lone tree in a huge sunset.
Strangle Fig
Genus Ficus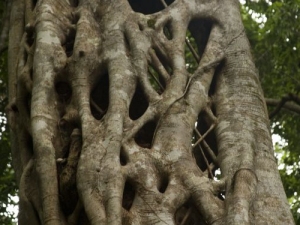 In the initial stages of growth it is like a little vine-like plant climbing nearby large trees, then it thickens producing aerial roots and strangles the host tree, The bottom half of strange figs are twisted where it was initially attached to the host tree. The upper part is smooth. It is commonly found along Serengeti rivers
In the South of Lolliondo, we have a massive fig tree  "Tree Where Man was Born". Ngorongoro, near Endulin we have the "Ancestor Tree" significant for the regional Maasai population.
%CODE1%
Ngorongoro, near Endulen we have the "Ancestor Tree" significant for the regional Maasai population.
%CODE2%
WILD DATE PALM
(Phoenix reclinata)
These palms have leaves with unbranched parallel veins. Relatives of lilies, grasses orchids, and bananas. The most common palm trees are the native palm that occurs along swamps and rivers. The edible fruits are not tasty at all but the sugary sap is used for making palm wine. The palm tree shades have fragrance and a perfect for resting under.
CANDELABRA EUPHORBIA
 (Euphorbia candelabrum) 
These trees are common in the north and west parts of Serengeti. When they break, quite easily..they are filled with a toxic white latex
A single drop can burn skin. The tree was planted as cattle fencing to steer away predators who would keep away from the dense poisonous stems,
Bakchandi
COMMIPHORA AFRICANA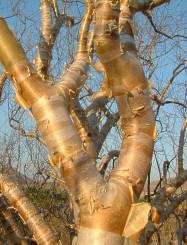 The Commiphora can be distinguished  Acacia tree species by the bluish yellow peeling papery bark.
The trees occur all over the Serengeti dominant of the eastern side, The roots, barks, and berries are used as local medicine for stomach and liver problems, colic in children and rashes. There are several Commiphora species in Serengeti
There are many medical uses like typhid fever treatments, it serves as stomach probelm remedy as well. The powdered bark mixed ina porridge cures malaria .The medica use of the resin is used for the sealing and disinfecting of wounds. Applied as a plaster ,it is used for spasms. Burnt resin is used as insecticide as well.
Uses of the wood, are soft but termite resistant. They are used for the contruction of houses ,beehives, tool handles and musical instruments as well.
The leaves, fruit, and roots are edible. Edible oil is extracted and incense is made from bark and dried sap.
The Yellow Fever Tree
Vachellia xanthophloea
The yellow fever tree is common in Lake Manyara . Early settlers knew malaria was common near areas where there was standing water but they blamed the Yellow Arcacia instead of the mosquitos, And that is how the name Yellow fever tree came about.
WHISTLING THORN
(Acacia drepanolobium) (Ant-galled Acacia)
The hollow spheres ate the thorn base is filled with ants that bite. The ideal home for ants food supplies come from the special flowers called floral nectaries. There is an abundance of these trees in saturated soils
BALANITES (Desert Date)
Balanites EgyptianDesert Date
The Balanites tree is commonly confused with Acacia trees. They can be identified by green thorns. A nut like a date that the tree produces is tasty both raw or roasted.
TOOTHBRUSH TREE
Salvadora persica
The toothbrush tree is a low bush tree with long and arching shoots. These shoots when green is cut by locals for using as toothbrushes. They chew until it resembles commercial toothbrush, and then brush teeth spitting out wood fragments. Their smiles show a job well done.
Welcome
Amazon and the Amazon logo are trademarks of Amazon.com, Inc, or its affiliates.