As an Amazon Associate I earn from qualifying purchases.
Kariuki wa Nyamu is passionate about wording his way into the streams of life. He is a poet, an editor, a playwright, a translator, educator and a literary critic.
I realize poetry in music, in my footsteps, in my heartbeat, in my dance steps and many other great experiences –   Kariuki wa Nyamu
[amazon_link asins='1786575639,B002ZSC1E8′ template='ProductCarousel' store='exploremoth07-20′ marketplace='US' link_id='875cf364-7153-11e8-982b-499b8c27215e']
[amazon_link asins='1780765010,1408134713′ template='ProductCarousel' store='exploremoth07-20′ marketplace='US' link_id='dd87d1d4-7153-11e8-9d30-637938674183′]
After several writing awards at school, university and on national level, he spreads the word through poetry, short stories, film scripts, satire, and fiction,
2007 National Book Trust of Uganda literary award
2010 Makerere University Creative Writing Competition
2017 Winner of Babishai Haiku prize
My life revolves around poetry. I utter it. I read it. I study it. I breathe it. I teach it. I write it. I enjoy it. I dream it. I philosophize it. I theorize it – Kariuki wa Nyamu
Publications featured in:
A Thousand Voices Rising,
Boda Boda Anthem and Other Poems,
Best New African Poets 2015 Anthology,
Jalada Africa,
Praxis Magazine
The Wagon Magazine
Poetry Potion,
Experimental Writing: Volume 1, Africa Vs Latin America Anthology,
Best New African Poets 2016 Anthology,
Multi-Verse: Kenyan Poetry in English Since 2003
Co-author: When Children Dare to Dream.  a children's poetry and  anthology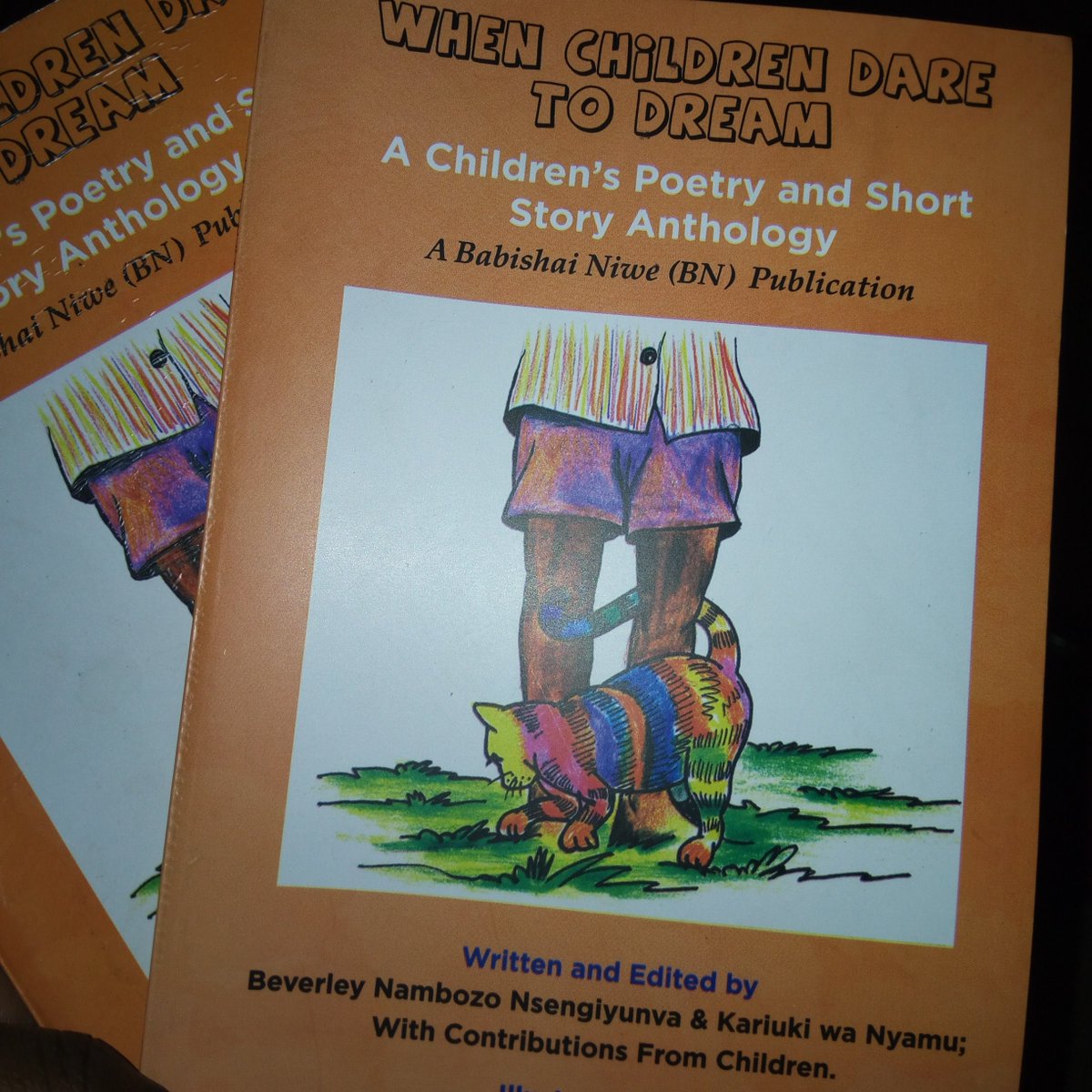 %CODE2%
Meet #CreatePreneurAfrica Kariuki wa Nyamu
Tell us what drives you? What is your true passion in life?
Well, I think what drives me is the realization that Poetry is life and that Life is poetry. Each life's experience is poetic.
I realize poetry in music, in my footsteps, in my heartbeat, in my dance steps and many other great experiences.
And that makes poetry a very beautiful art and my true passion in life.
Basically, my life revolves around poetry. I utter it. I read it. I study it. I breathe it. I teach it. I write it. I enjoy it. I dream it. I philosophize it. I theorize it.
Oh yes, I turn countless societal experiences into poetry! And I believe this inspires the world.
How did you find your passion and how old were you?
I became conscious of my passion for poetry in my high school days. I was barely fifteen years old and in Form One.
I still remember our teacher of English teaching us how to write "Simple verses". After the lesson, she assigned us the task of writing simple verses. Mine was one of the best! The following day after marking, she announced how she was impressed with me for crafting such a brilliant four-line poem!
This made me more passionate about the subject of poetry in particular and literature in general. Maybe that's why I studied the subject up to university level… All in all, I'm dearly grateful to all my teachers and professors for kindling my interest in poetry and nurturing it. I treasure you.
What about your passion appeals to you the most?
I think it's my deep love for words and of course the much time that I devote to my Creative writing pursuit.
Yes, although sometimes I feel that I give poetry too much attention, but believe you me, my passion for poetry is irresistible! I'm delighted to be published in myriad international journals, magazines, blogs, and books. So far, so good.
What drove you to make money from your passions?
Frankly speaking, I wasn't really driven by the desire to make money from my writing. It came at a time I least expected. My greatest aspiration was to just tell stories that enlighten, edify, entertain, and most significantly inspire people.
By the way, in the creative arts industry, if you let money be your chief impetus, you'll be doomed if it never comes your way! But if your impetus is to learn the craft, inspire people thus be relevant, you'll certainly live a rewarding life whether the money comes your way or not. After all, money isn't everything.
When was the first time you were paid for your passion?
Well, there're many endeavors I'm passionate about, and have been paid for… But shall we agree that passion here means passion for writing?
Good. The first time I was paid for my writing passion was in 2012. This was just after I graduated with my BA in Education, English Language, and Literature at Makerere University, Uganda. My goodness, never in my life had I imagined I could earn money from my writing!
Writing made me receive my first cheque. I'd then continue writing the radio drama titled "Home To Community," Season after Season until 2013 when I relocated to Kenya my motherland.
This radio drama, produced by Wizarts Media, Kampala, Uganda, was successfully broadcast for years in some of the major FM stations in Uganda. I'll always pride myself on being a part of this production.
What keeps you going whenever you think about giving up?
It's not my strength of mind or even my comprehension of technicalities of art that shields me from giving up but it's only God's grace that keeps me going.
Another thing is the realization that nobody will ever tell my stories whether in the poetic form, prose or even the dramatic form…
What motivates you every day to be even more relevant in the world of Poetry?
I believe it is the knowledge that my poetry inspires a lot of people world over. I must sincerely disclose that my poetry has, in the recent past, attracted very encouraging commentaries from ardent poets, authors, and scholars; some of whom are far more advanced in their literary pursuits than me.
This certainly motivates me to mold even greater pieces and hence work towards being even more relevant in the world of Poetics.
What do you have to say to all of the people who doubted your potential?
Naturally, I do not hold grudges, so I guess I'd just be wordless. In any case, it's perfectly normal to have all sorts of people around you… Some to dishearten you, some to hearten you…
Dear poet whose potential has been doubted by many, and maybe for a long time:
Be encouraged, ignore all manner of dispiriting remarks! Remember, it's crucial to master your own craft.
Although I understand it's absolutely wonderful when people believe in your craft, ensure that you believe in yourself more.
And most significantly, be humble, trust and obey, yes, be humble, trust and obey Life's Author.
What advice do you give to an aspiring creative who looks up to you?
Dear Aspiring Creative,
You've to invest in your art and hence give it your best. Read great texts; enjoy and learn the art, and no matter the dissuasion you'll get from the world
Never let your passion for whichever art die down. After all, you're the best definition of yourself. Good luck!
Amazon and the Amazon logo are trademarks of Amazon.com, Inc, or its affiliates.